This Week at HCC
A Note from Pete
Dear Friends,
As most of you know, Sara, Tracy, and I are in West Virginia with a group of HCC Youth on a service trip this week. Your practical support, encouragement, and prayers leading up to the trip and during this week have been wonderful. Thank you! Each day has brought profound beauty, lots of laughter, and numerous gifts, insights, and new connections. We look forward to sharing our experience with you.
We are blessed to welcome HCC member the Reverend Nancie Mooney to the pulpit this Sunday. She is a woman of great insight, faith, and experience and I hope you'll give yourself the gift of listening to her message.
Peace,
Pete
A note from Sara…
Our youth are having a great time at the  Appalachian South Folklife Center. Our programs have focused on fear, expectations, listening, opportunity and so much more. They are working on painting, a small addition to a home, and skirting or what some
Southern folks call underpinning. It's a lot! Perhaps most importantly, they are connecting with the family.
Sending love,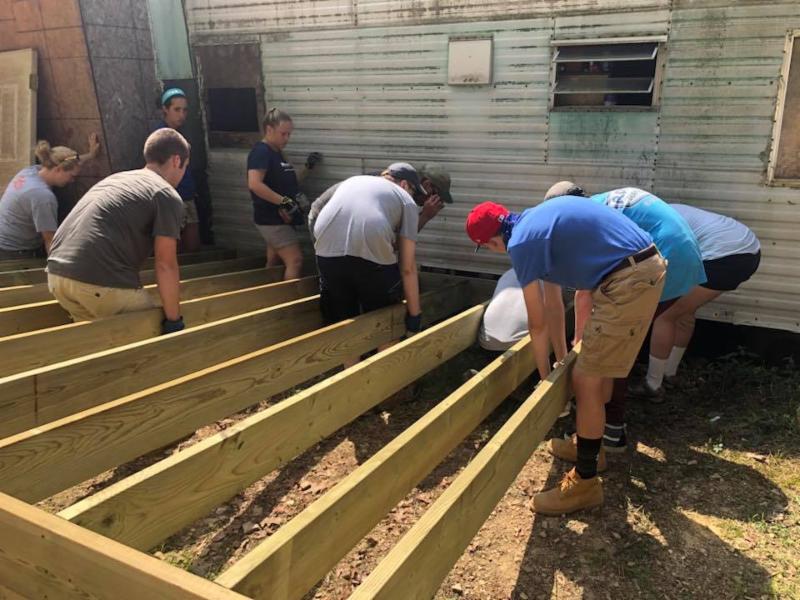 See More at the HCC Youth Service Trip Blog:
Food for Thought…

 Radical Reconciliation: Beyond Political Pietism and Christian Quietism
by Allan Aubry Boesak & Curtiss Paul DeYoung. This is the book Pete has recommended this book on reconciliation.
Please keep in your prayers…
Sid Florey
David Hulbert and the Hulbert family
Tom Arthur
Jane Thorell, Mark's Mom
Galen Hersey
Katie and Betsy, friends of Dan Kelleher

Bill Ketchum, Member in Discernment

All those affected by violence in the world; our prayer is for love, justice, and peace.
Mayan Families Need  
Replacement Sponsors!

Each year, Mayan Families is informed by dozens of sponsors that they can no longer afford to support their student.  We would like to keep the dream of education alive for these children by identifying new sponsors to help them complete their journey.  Our goal is to identify 
100 Second Chance Sponsors
 this July, and we need your help.
You understand the importance of education. For just $1 a day, you can give an education (and a second chance) to a student in Guatemala. A sponsorship gives them all the resources they need, including cost of enrollment fees, school materials, supplies, uniforms and other general support.
Sponsor information page:
JUNIOR CHOIR REHEARSAL

HCC Jr. Choir will resume the second week in September!
Watch for upcoming announcments!
Caring for Creation
Would you like to be a part of planning, building, planting, tending and harvesting a raised garden on HCC property? Younger or older, be in touch with Sara at…… Fresh veggies and herbs taste delicious.!
Guild Consignment Center

Board Meeting Schedule:

Next meetings for each board are scheduled for:
Christian Education       August 29  7:15 pm
Deacons                        August   6  7:00 pm
Executive Council          July      18  7:30 pm
Fellowship                             TBA
Outreach                     Sept      12  7:30 pm
Stewardship                          TBA
Trustees                                TBA
Sanctuary Team
Are you interested in how our sanctuary looks on Sunday mornings and during other services? Each Sunday, holiday, and special even calls for a slightly different look. Flowers, candles, banners, works of art, and everyday objects can be used to enhance our experience of worship. 
We are forming a new team of perhaps three people to help prepare the sanctuary for Sundays and other occasions.
 It could mean arranging for flowers or helping to taking part in a more ambitious project. The demands on your time will be low and there will be no committee meetings. Please let Pennie Baltera, 
allenbalte@gmail.com
, know if you would like to take part.
What's Happening This Week 
July 15    9:00 am     Worship – Rev. Nancie Mooney
Evening HS Youth Service Project Travelers Return!
July 18  7:00 pm       Executive Council Mtg.
Save the Date:   
July 22   9:00 am     Worship – Suzy Burba  
July 29   9:00 am     Worship & Baptism – Rev. Dr.
                                Peter Allen